Rose Pharmacy Joins Resbakuna sa Botika in Cebu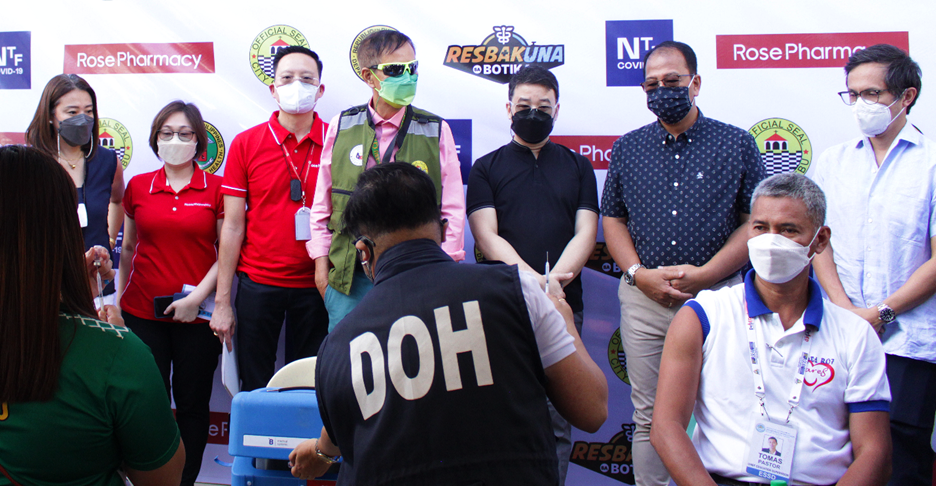 From L-R: Christine Tueres, RRHI Drugstore Segment Group General Manager; Abigail Tolentino, Rose Pharmacy Procurement Manager; Michael So, Rose Pharmacy Deputy General Manager; Michael Rama, Cebu City Mayor; Undersecretary Anthony Gerald Gonzales, Office of the Presidential Assistant for the Visayas; Chief Implementor & Vaccine Czar Sec. Carlito Galvez, Jr.; Deputy Chief Implementor & Testing Czar Sec. Vince Dizon.
Rose Pharmacy, the leading drugstore chain in Visayas and Mindanao, recently showed support to the government's Resbakuna sa Botika Program in Cebu City on February 2, 2022. Rose Pharmacy was the first drugstore in the Visayas to launch the program.
In collaboration with major drugstore chains across the country, the program is the latest vaccination drive spearheaded by the National Task Force Against COVID-19's National Vaccination Operations Center (NVOC). NVOC is the Department of Health's (DOH) leading agency dedicated to making COVID-19 vaccines accessible to the public.
Government officials attended the event at Rose Pharmacy, namely Chief Implementor & Vaccine Czar Sec. Carlito Galvez, Jr., Deputy Chief Implementor & Testing Czar Sec. Vince Dizon and Cebu City Mayor Michael Rama. They expressed the importance of private partnerships to build safer communities through vaccination and how the country is now better prepared in managing the current health crisis.
"The Omicron variant continues to pose a serious risk to our healthcare workers and to the general population, so mobilizing the vast network of pharmacies and pharmacists nationwide is a big step in the right direction in our united fight to beat this pandemic. Our participation in this vaccination program is consistent with our business purpose of improving the quality of life of our customers," said Michael So, Deputy General Manager of Rose Pharmacy.
"We are pleased to once again be part of Resbakuna sa Botika, this time with Rose Pharmacy in Cebu. We fully support the DOH's efforts to bring COVID-19 vaccines closer to people. The program affirms our collective position that vaccination offers a significant degree of protection to individuals and communities, which is necessary to mitigate the impact of the ongoing pandemic to the lives and livelihoods of Filipinos," said Christine Tueres, Group General Manager of RRHI's Drugstore Segment.