TGP In Support of DOH's Resbakuna Sa Botika Pilot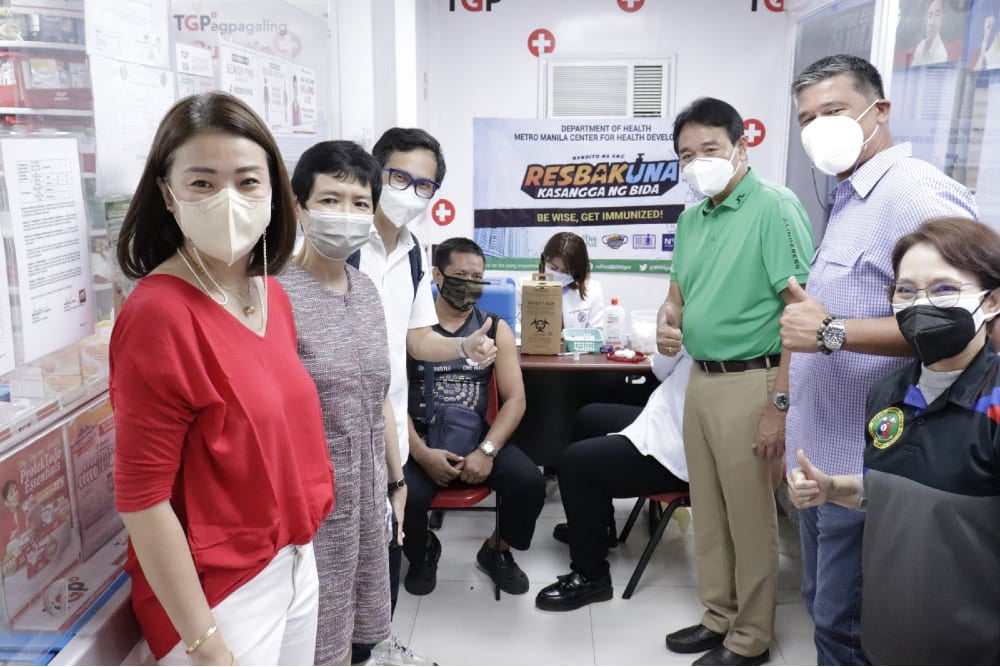 (L-R): Christine Tueres, RRHI Drugstore Segment Group General Manager; Robina Gokongwei Pe, RRHI President & CEO; Vince Dizon, Secretary & Presidential Adviser; Edwin Olivares, Parañaque City Mayor;and Christopher Marius Cortez, Barangay Captain of Sun Valley
On January 21, 2022, TGP inoculated over 300 individuals with COVID-19 booster shots during the national government's Resbakuna sa Botika. The event was held at TGP's headquarters branch in Edison, Parañaque City.
The program, under the mandate of the Department of Health, is the most recent vaccination drive spearheaded by the National Vaccination Operations Center (NVOC) of the National Task Force Against COVID-19 to provide greater access to vaccines as a measure protect citizens from the ongoing pandemic. In partnership with local drugstore chains, Resbakuna sa Botika affirms the DOH's stance that vaccination offers significant protection in preventing the spread of COVID-19 and in mitigating the fatality of the virus.
The event was attended by government officials, including Secretary Vince B. Dizon, Presidential Adviser for Flagship Programs and Deputy Chief Implementer National Task Force against Covid-19; Congressman Eric Olivares of Parañaque City, District 1; and Mayor Edwin Olivares of Parañaque City. Also, in attendance were Health Officer Dr. Olga Virtusio; Barangay Captain of Sun Valley Christopher Marius Cortez; Brgy. Medical Officer Dr. Marie Fe Ricohermoso and volunteer nurses of Sun Valley Mega Health Center.
Secretary Vince Dizon shared that the initiative comes at a crucial time to protect frontline health workers getting infected in the Omicron-surge, entailing the need to tap pharmacies as partners for vaccine rollouts. Mayor Edwin Olivares said in his remarks that the country is now better prepared to weather the pandemic, reiterating the effectivity of vaccines in saving lives. They also urged those who were still unvaccinated to take advantage of the government's vaccination drives.
Christine Tueres, RRHI Drugstore Segment Group General Manager, expressed TGP's support for the initiative.
"We are at a significant point in this pandemic where recovery is in sight, and I am optimistic that we will make it through together. That is why we are here: for TGP to help in the vaccination and booster roll out programs that protect communities."