Southstar Drug In Support of DOH's Resbakuna Sa Botika Program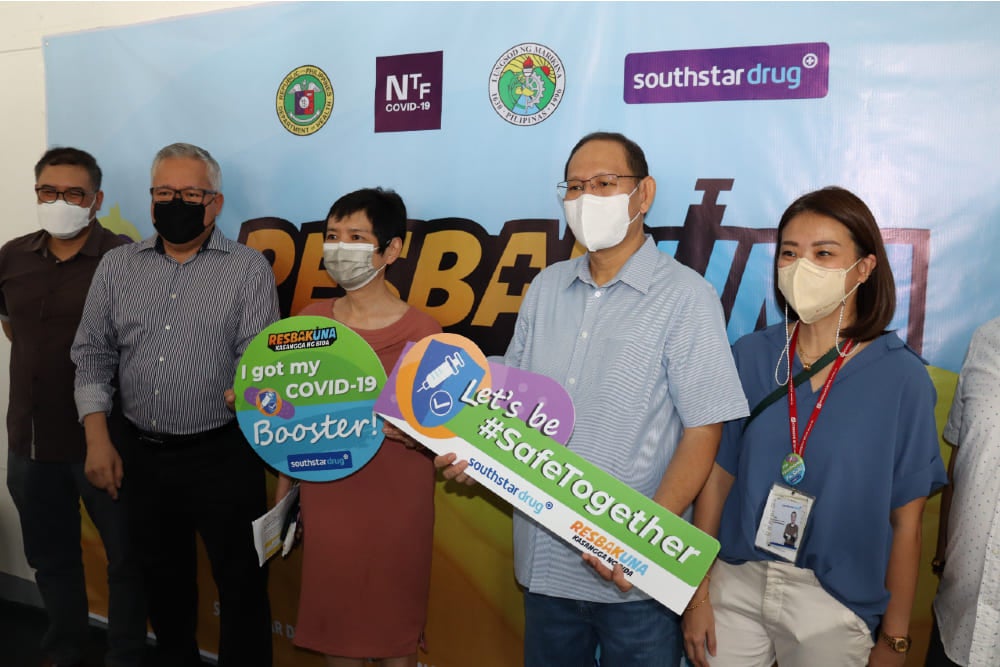 L-R: DILG Usec. Epimaco Densing, DTI Sec. Ramon Lopez, RRHI President and CEO Robina Gokongwei-Pe, Marikina City Mayor Marcy Teodoro, RRHI Drugstore Segment Group General Manager Christine Tueres
Southstar Drug recently launched Resbakuna sa Botika at its Concepcion Uno branch in Marikina City on January 20, 2022, offering free COVID-19 booster shots to qualified individuals. The program is spearheaded by the National Task Force Against COVID-19's National Vaccination Operations Center (NVOC), the specific arm of the Department of Health conceived to provide greater access to vaccines as a measure protect citizens from the pandemic.
Southstar Drug was one of the first major drugstore chains to show active support for the program, inoculating individuals with booster shots of AstraZeneca and Sinovac.
The launch was attended by government officials including Department of Trade and Industry (DTI) Secretary Ramon Lopez; Department of the Interior and Local Government Undersecretary Epimaco Densing; Marikina City Mayor Marcelino "Marcy" Reyes Teodoro; Marikina City Vice Mayor Marion Andres; and Dr. Angelito Llabres, City Administrator and representative of IATF Marikina.
In his keynote address, DTI Secretary Ramon Lopez emphasized the importance of vaccination to ensure that businesses and the livelihood of Filipinos will continue despite the ongoing health crisis. DILG Undersecretary Epimaco Densing highlighted the necessary collaboration between the private and public sector to fast-track the rollout of health services, while Marikina Mayor Marcelino Teodoro shared that COVID tests still play a crucial role and informed the public of the free testing services offered by the Marikina Molecular Diagnostics Laboratory.
Christine Tueres, Group General Manager of Robinsons Retail's Drugstore Segment, focused on collective recovery and the importance of making informed choices for one's health.
"COVID-19 is a challenge we all face, from our frontliners who report to work every day, to our customers, who rely on us for reliable medicine and services. We encourage everyone to make informed choices for themselves and their loved ones," said Tueres.
Southstar Drug has 583 stores nationwide.