Robinsons Retail Joins Forbes' List of the World's Best Employers 2020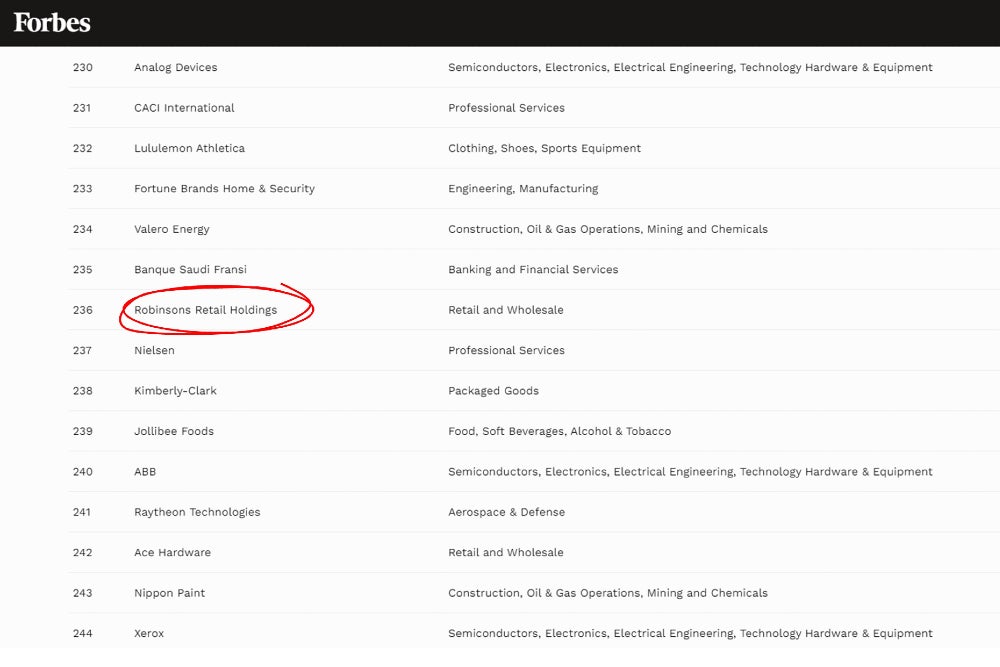 Robinsons Retail Holdings, Inc. was recently named by Forbes as one of the World's Best Employers. Published on October 15, 2020, the fourth edition of the annual list is composed of 750 corporations headquartered in 45 countries. Topping the rankings was South Korea's Samsung, with the United States' Amazon and IBM in second and third place, respectively.
Ranked 236th, RRHI is the highest placed Filipino company on the list, which also includes Jollibee Foods and the Alliance Global Group.
"I would like to thank Forbes for this recognition, as well as our employees for their continued hard work, dedication, and the trust they have given to the company," said Robina Gokongwei Pe, RRHI President & CEO.
The 2020 edition of the list was compiled by the US-based financial news publication in partnership with Statista, a German market research firm. To obtain the rankings, they surveyed 160,000 full-time and part-time employees working for multinational companies or at firms with operations in multiple nations or regions.
The surveys were conducted from June to July with anonymous participants who were asked to rate their companies based on several criteria, which included the employees' willingness to recommend their employers to friends and family; their employers' image, economic footprint, talent development, gender equality, and social responsibility; and their satisfaction with how their employers' dealt with Covid-19.
RRHI's response to the pandemic has been comprehensive, with initiatives coming from across the organization, from the boardroom level to employee-driven projects. Among these are food donation drives and delivery of essential medical supplies, provision of shuttle bus service for essential employees during ECQ, and the push for more online platforms to better serve their customers during this difficult period.
"Thank you to Forbes for this recognition. This would not have been made possible without our passionate employees who continue to help bring the best out of the organization," said Gabriel Tagala III, RRHI Vice President for Human Resources.